Fortune Greece Magazine published an article: "A woman entrepreneur is changing the image of the country."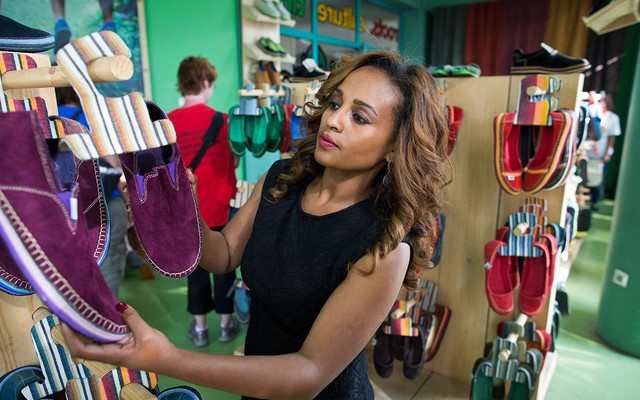 Read The Original Article at Fortunegreece.com (Greek)
The original idea of Bethlehem Aleman was rather humble. She just wanted to provide a decent living for herself and her family in their village, the Zanampegkourk , about 30 kilometers fromAddis Ababa .
Having the side of her husband-"my support," she says-her little brother Samuel and two artisans, opened a family shoemaking, in an area that lent her grandmother.
"He had no idea how shoes are made," describes today Samuel. "The first we made reminded more beds miniatures!". But thanks to the imagination and perseverance, Bethlehem Ethiopia quickly got wind of a young businessman.
He made ​​plans, choose colors, decide the materials to be used by the crafts of all-organic and recyclable-photographed handmade products and began to sell to Amazon .
Six months later came the first big wholesale order from the U.S. . Approximately eight years later, the company, soleRebels , has gained an international reputation and pretty much changed the image of Ethiopia itself.
Its product uses only domestic raw materials: organic cotton, jute fabrics, processed knot (an indigenous plant, cultivated over 10,000 years in Ethiopia) and recycled tires for soles! The idea was not even new. So pretty much made their sandals Ethiopian rebels when fighting Italians colonialists in 1953.
Today, soleRebels employs 300 people. Others are craftsmen, others work in the production of cotton and jute, other recycling Tires. And all of them well paid 3-4 times more than the average monthly salary in Ethiopia (about $ 40), with full medical care-which is rare in the country. The company of Bethlehem, moreover, is certified in Fair Trade , which among many other safeguards the rights of workers.
After successful course in shoemaking, the company expanded its production from last May in the areas of clothing and accessories. By 2016, the Bethlehem calculates that corporate turnoversoleRebels will reach 10 million U.S. dollars a year .
Obstacle course, there are also significant. One of these is the competition. With the lure of extremely low labor costs in Ethiopia, Huajian -of the largest shoe manufacturers in China-opened factory in the nearby town Ntourkem , with average production of 2,500 shoes a day! Bethlehem says that quality is its own answer to this challenge.
Even though fighting has failed to address another major problem, which considers that it is difficult not only by itself but also the home to solve. Unlike the stereotype that this is a country starving "Ethiopia has changed," he says.
"We do not want charity. We are creative. We want to treat us as business partners »!